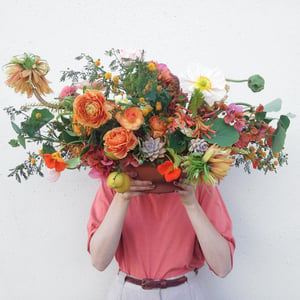 $

425.00
Join Amy for a flower arranging workshop on February 28th from 11am-3pm at the Unique Space in Downtown LA.
Students will take inspiration from the springtime bounty of Southern California, immersing themselves with local citrus, lush ranunculus, flowering branches and a host of other special materials grown in the area. Amy will discuss her favorite techniques for creating naturally inspired arrangements with an emphasis on movement, seasonality and personal style. Under her watchful eye, students will create wild, effortlessly abundant footed compote arrangements exploring the use of flower frogs and chicken wire as a means of structural support. This class is open to both motivated beginners and seasoned floral enthusiasts looking to hone their skills.
Students will come away with both technical skills and practical business advice gleaned from Amy's experiences as a designer and floral stylist. Flowers, vase, clippers and a light lunch will be provided.
Spaces in the class are non-refundable.